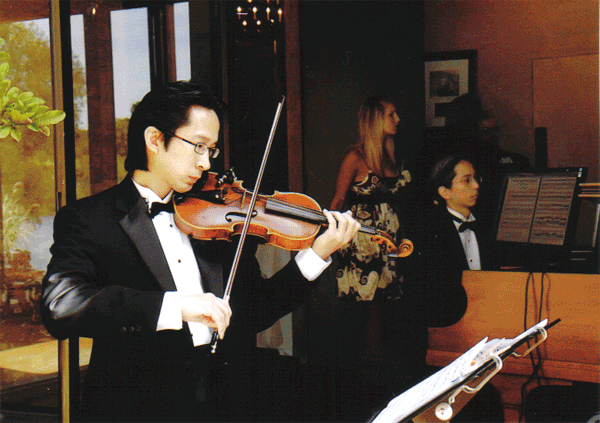 Rhapsody in Two: The Soriano Duo
Rhapsody in Two, is the Soriano Brothers Music Duo, or simply, the Soriano Duo - comprised of musician brothers Ron Soriano (violinist) and Rick Soriano (pianist). They are classically trained musicians performing chamber music and wedding music in the Central Ohio area. Growing up in a family where playing the piano was fostered at an early age, the brothers quickly learned to appreciate music and have continued sharing their musical talents. Together, they have a combined 40 years of professional experience in the music world. Although they are classically trained musicians, they are also skilled in playing Broadway, pop, contemporary, new age, and jazz music. In addition, they collaborate with any combination of piano, strings, winds, and vocalists to form unique ensembles tailored to your needs.
"Bach to Jazz"
Music from Bach to Jazz, Classical to Contemporary. Whether it be Classical, Romantic, New Age, Popular, Jazz, ... we have the music for your occasion. Imagine the sound of Live Piano and Violin Music at Candlelight Dinners, Weddings, Receptions, Festive Holiday Parties, Wine Tastings, Anniversary celebrations and Private Dinner Parties. Whatever the occasion, the Soriano Duo can add an element of class...live musical entertainment that adds the ambience to make your special event complete.
Have piano, will Travel
Your piano or ours...The Soriano Duo is fully equipped with amplification for acoustic violin, a sound system, and transportable digital piano. We can entertain in large and small rooms, indoors or outdoors. We play throughout most of central Ohio. A nominal charge may apply only for travel significantly outside of the Columbus area.
O Solo Mio
Rick is also available for Solo Piano Music. Rick has many years of experience as a solo pianist. He has performed for weddings, clubs, restaurants, private dinners and parties, and other events in the area for many years. He enjoys playing a mix of light classical pieces, jazz, blues, funk, Broadway, and pop tunes. Visit his
website
for more information.
Got Music?
The Soriano Duo has an extensive
repertoire
that is constantly expanding. Let us know if you have a request or a special song in mind - we will tailor the music to your desires!